With the dust of fashion month settling, we have intermittently been delving into these recent fall fashion offerings. And to be honest, the said 'delving' has occurred mostly through some seriously tired, jaded, and glazed eyes. Maybe I just haven't been in the best of moods or maybe my senses were still recovering from a strong shot of anaesthetic. That's not important. Significantly to me though, it was at first sight of this AF Vandevorst collection that I finally came to my wake.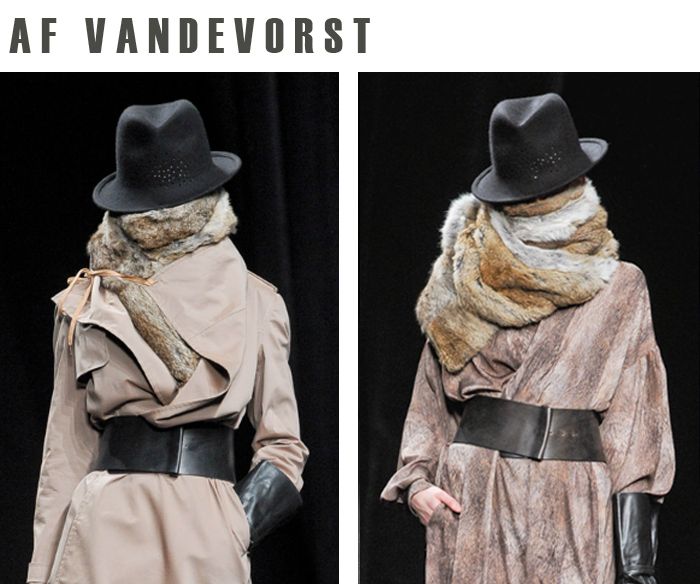 Warm even-light skimmed the soft fur and wool as they drape round and round their necks and faces. Dark shadows were cast by the fold and the artfully tipped black hats. Together they acted as a mask. As the figures slowly glided down the runway - elegant, completely anonymous and somehow timeless, I sensed my heartbeat calm down, breath: deep and smooth. Mesmerised, I likened them more to 'art' than anything else. As the figures appeared and disappeared in sequence; the qualities, at moments reminded me of still life paintings, sculpture and at times even renaissance portraiture (of those delightfully lit humanists). A perfect composition of parts.
They pose a question, asking us to slow down and reconsider. In an admirable and refreshing way, they reject 'fashion' as power dressing and 'image' making, and instead reach for a quiet beauty, and timelessness that is undeniable.
These photos are only an entrée, have a look at the whole lot, here. Better yet, watch the video.