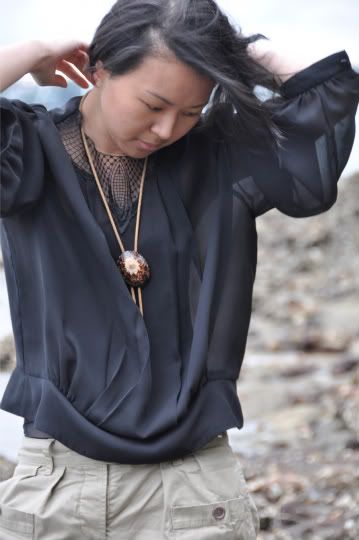 Shirt: Vintage
Shorts: Country Rd
Boots: Vintage
Bolo: Vintage


Hurrah! We have just doubled our
wardrobe space with my sister moving out recently. Of course, no, I'm sad she's gone - but my clothes are very happy. There's just much more room for the air to move around and for us to see every single piece of clothing. This blouse usually gets its place somewhere below two layers of jackets - pretty much

forgotten

. But I'd like to slowly ease myself into this land of 'one-hanger-per-item'. A little bit indulgent, I know, I think so too.

I found this vintage bolo recently, and I'm

obssessed

with them. Its just such a natural alternative to a necklace! I'm particularly obssessed with the freaky shell. Don't call the dept. of conservation on me now, but any guesses what kinda shell this might be?

if its a shell at all.