Thank you lil Tom* for wearing these cherry docs in for me. You know how I hate the new-doc look and feel - so tough against the feet. Swiped these off a local trading site, secondhand (
or third
). Just the way I like em'.
Truth is, Auckland in the New Years is pretty dead. Everyone leaves the city for our coastlines. So in the metropolis, we have less than average fireworks, quiet streets, favorite cafes - closed and surcharges on all the ones that are open. Oh and not to mention,
surcharge on ice-creams too
!!

A crime we all know. Good thing that's over, I was growing slightly more depressed every second, remembering our insane time in
Madrid
during New Years last year.....

* = name was changed in the writing of this post due to privacy reasons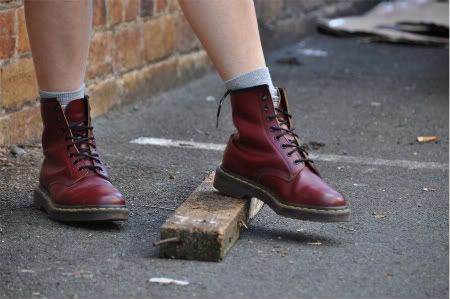 Dress: Vintage
Boots: Docs
Socks: f21